Well, well it looks like extreme religious right leader of Westboro Baptist Church, Fred Phelps, is bringing his show to Glendale, Arizona. He has promised to protest the Laramie Project at Glendale Community College.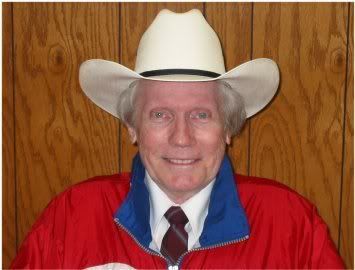 In past protests he has brought such signs that read
"God Hates Fags" "Fags Die God Laughs"
and
"Matt in Hell."
Let us show him that he is not welcomed in the Valley of the Sun. Wear a red shirt to show unity! Bring angel wings, (the bigger the better to block the protest signs).If you can't make a pair of angel wings there will be some extras to hand out. The angel wings are in honor of the original counter-protest when Matt's friends blocked out the Phelps' group at Matt's funeral the trial of one of the murderers.
You are encourage to not engage the Fred Phelps group since they make their money off of suing counter protesters.
If you are not wanting to counter protest I encourage people to support the production. GCC does not pre-sell tickets. They will be available 1 hour prior to the show.
Dates of performances - Nov. 20, 21, 22 All shows start at 7:30pm
The Laramie Project
In October 1998, a 21 year old student at the University of Wyoming was kidnapped, severely beaten and left to die, tied to a fence in the middle of the prairie outside Laramie, Wyoming. His name was Matthew Shepard, and he was the victim of this assault because he was gay.
Moisés Kaufman and fellow members of New York's Tectonic Theater Project made six trips to Laramie over the course of 18 months in the aftermath of the beating and during the trial of the two young men accused of killing Shepard. They conducted more than 200 interviews with the people of the town, whose varying reactions to the crime are fascinating. Kaufman and the Tectonic Theater members constructed a deeply moving theatrical experience from these interviews and their own experiences. The Laramie Project is a breathtaking theatrical collage that explores the depths to which humanity can sink and the heights of compassion of which we are capable.
UPDATE
The counter protest was AMAZING. Phelps' group showed but because of the size of our group they came no where near the theater. There were only 10 of them and hundreds of us. They didn't protest in the parking lot or really anywhere that was visible. In fact, no one really knew they were there. It was nice to provide a great atmosphere for the closing night of the play. To top it off the play SOLD OUT. They had to turn people away. What a great night.